EASY ACCESS TO YOUR NUMBERS
KWAK ACCESS TRACKER
Kwak Access tracker (K.A.T) is an Android application which allows you to dial our variety of international premium numbers right from your phone with any SIM card. Since access is very difficult to find this application is the right tool for it.
The Kwak Access Tracker is very easy to use and is created in a way that fulfils customer needs. Filters pools help the user find exactly what they are searching for.
HOW IT WORKS
Kwak Access tracker work only on Android phones.
What you need to have is an android smart phone ,
sim card and an internet connection. 
Make sure your phone has enough battery power before the test start.
When all numbers are dialled, you can send the report to the e-mail address you want.
Before downloading the application make sure you go first to mobile settings,
click security and then enable the option "Allow unknown sources"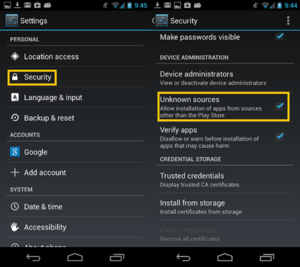 After the installation is done then you are ready to test.
Find the application on your phone screen.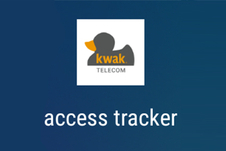 Once the application is ready , select on top the tab TESTING and you can select from
number pool to customize options for your needs. Select Create Test to start.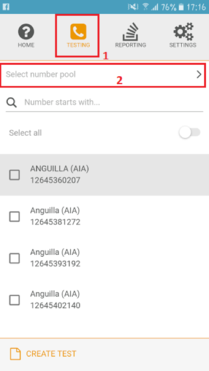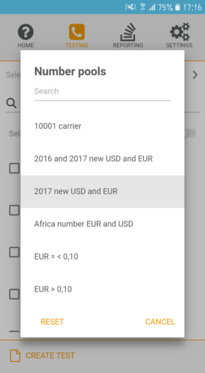 There is also option for testing all our ranges by enabling
the slide button "Select all" and then "Create test option"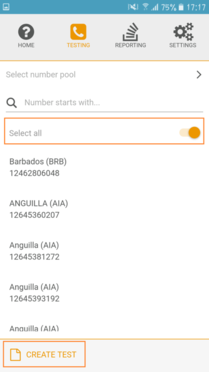 After creating the list for testing is needed to press Start button at the bottom.
Same way you can stop the testing procedure by selecting the Stop button.
In order to get the report of your successful calls you need to select Finalize button.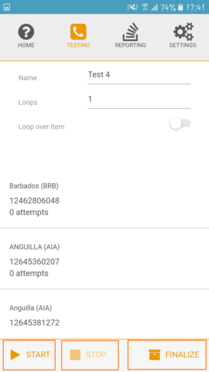 REPORTING TAB
Check your successful and unsuccessful calls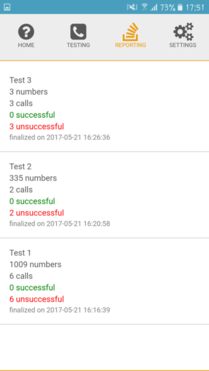 SETTINGS TAB
Test settings
It allows you to repeat the calls from the list you select to test.
The value can be changed as per your request.
Seconds between calls can be adjusted as well.
At the device settings you can enable your Caller ID since our tracker
does not support anonymous calling.
General actions
It is used to Register and synchronize your device